Welcome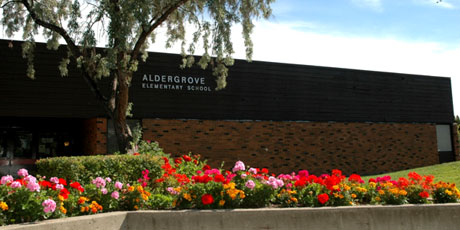 Aldergrove School is a medium sized elementary school that serves a vibrant, west end community. Staff, students, parents and community work in partnership to provide challenging learning experiences in a safe and caring environment.
At Aldergrove School we provide comprehensive academic programming for all students including those with diverse learning needs, such as children who speak English as a Second Language and those children who need behaviour assistance.
The successful operation of a school requires the cooperation and understanding of everyone concerned. As a member of the Aldergrove School Family, students will face both the problems and benefits of life in a community of learners. Each member is responsible for doing the best they can to make our school community one in which we can live and work together in harmony. We must learn to respect the strengths and weaknesses of others; to communicate our wishes and intentions to each other; and to carry out our responsibilities as productive members of our school community.
We anticipate that this information will address general queries, specific questions or concerns that may arise during the year. Should your concerns not be answered, please do not hesitate to contact our staff at 780-487-5182. An answering machine operates during the out of school hours.
School Mission Statement
Aldergrove School is a place to belong, to contribute, and to grow, a caring and respectful environment that seeks to nurture positive relationships.
We believe:
that learning is an individual process, that by developing self-regulation, independence, and an excellent work ethic, children are prepared to take responsibility for their own learning, thereby, setting the foundation for individuals to be able to work together; (Working Together)
that learning is a social process, that by engaging in collaborative and respectful interactions with others, children learn together to achieve their potential; (Learning Together)
that learning is best done within an environment that is rich in text, a reflection of the rich diversity of language and literacy;
that self-regulated independent learners, who are capable of interacting with others, are able to lead together. (Leading Together)
Working , learning, leading together.